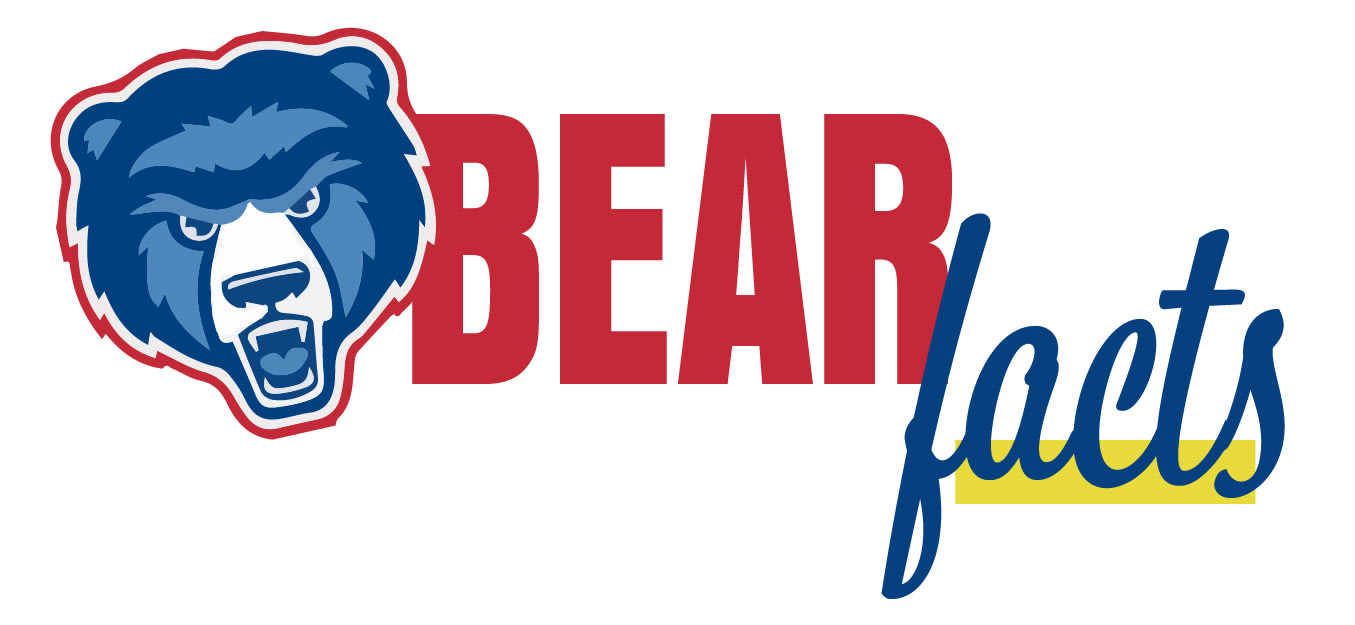 OCTOBER 21, 2021
Dear SBA Family,
There is a special treat coming your way tomorrow. and to introduce it, all that I will say is Halloweek is coming! There is a giant pumpkin in the lobby and a short list of student competitions for next week.
We have survived the first nine weeks of school! Friday is the last day of the grading period and grades will be pushed home next Friday. I am happy to report that I have had a chance to look at the cohort reports from the ERB tests that the students completed before break.
The reports indicate that we did very well compared to the previous year, showing marked improvements in all academic areas! Great news for you and great news for all of us! The teachers really did a remarkable job in less than optimal circumstances. Your child's teachers will be able to go over the reports in more detail during conferences.
Our 6th, 7th and 8th Level cross country runners take off early tomorrow to compete in the state cross country finals. We wish them the best of luck as they continue to create history at SBA.
Have a great weekend!
Mr. Sabo

KEEP READING FOR MORE . . .

• Fall Fair Weekend
• Halloweek
• Annual Fund Kickoff
• Saluting our American Heroes
• Humans of SBA
• Bears on Socials

FALL FAIR WEEKEND

Friday, October 22 - Saturday, October 23
HSA Fall Fair is ON!

Parents, faculty and staff are invited to an adults-only event tomorrow night (Friday) on the SBA Field. Saturday is for the whole family! Join us on the SBA Field for music, face paint, inflatables, games, cake, and more! Lunch is included in the price of your ticket – Chef Dan will serve up burgers, hot dogs, veggie burgers and veggie hot dogs. Make sure to RSVP here!

*A quick tip from our SBA Eco-Bears: Please bring your reusable water bottle! We also ask everyone to bring their own lawn chairs or blankets. Face masks will be required for all on Saturday.
HALLOWEEK
Monday, October 25 - Friday, October 29
Halloweek is creeping around the corner! Save the date for October 25-29 and start planning your fun outfits!
Monday: Crazy Sock Day
Tuesday: Superhero Day
Wednesday: Glow in the Dark
Thursday: Pumpkin Party
Friday: Wear your Costume to School Day

SALUTING OUR AMERICAN HEROES
We are excited to announce that we will be having a "live" Veterans Day Program. SBA will be honoring our veterans and other American heroes on Thursday, November 11, at 8:15 A.M. on campus. Our 5th Level students have been working hard to prepare for the program, but we need YOUR help!
Do you have family members or friends who are veterans, first responders, medics, firefighters, or police officers? If so, please send their names and email addresses to communications@stbernard.org by Friday, October 29. Thanks to everyone who has already sent names to your child's teacher! We will send them an official invitation (via email) to our Veterans Day Program!
Thank you for helping us make this a special day at SBA!
HSA BULB FUNDRAISER RESULTS
HSA Bulb Fundraiser results are in! The final tally for funds raised came to *drum roll please* $2,800! This amount exceeds the HSA's goal of $2,500 for this fundraiser and will be used towards improvements for the school.
COSTUME DRIVE
This is a LAST call for any costume donations to Costumes for Kids! You may drop off any costumes you no longer need on the cart outside the SBA Office by tomorrow, October 22, and they will be donated to The West Nashville Dream Center (WNDC)! Please label each donation with the size and name of the costume. Thank you for supporting this student-led charity!
BOX TOPS COLLECTION
Do you still clip Box Tops?
Those clips still appear on a few packages, and they still earn for our school! While Box Tops for Education has switched to a digital app-based program, they're still accepting unexpired traditional clips. If you happen to run across some, send them to school with your child in a sealed envelope to give to their homeroom teacher starting tomorrow, October 15 through Monday, October 25. Sara Spanos is our Box Tops Coordinator and will be gathering and submitting them before the November 1 deadline.
You can earn cash with the products you already buy to help our school get the supplies it needs.
Here's how you can help:
1. Send in clipped Box Tops starting tomorrow, October 15 through Monday, October 25.
2. Download the Box Tops app on your phone and follow instructions for how to set up an account and sign up to support our school.
3. Then, just shop as you normally would.
4. Use the app to snap a photo of your grocery receipt within 14 days of purchase. It'll automatically identify any Box Tops participating products and you'll give back to our school with each product you buy. Twice a year, we'll get a check!
Since the program started, SBA has received $10,471 from Box Tops for Education. Let's see how much we can earn this year!
*If you shop online, you can earn with your digital or email receipt, too. See how to submit those receipts at BTFE.com/digitalreceipts.
NEWS 2: FOOD TO FAMILIES DRIVE
SBA will be collecting items for the 2021 News 2 Food 2 Families School Food Drive benefiting Second Harvest Food Bank. We will compete with other schools in the area to see who can bring in the most items. The top three middle and elementary schools that bring in the most items per capita will win $500 each. Homerooms will also compete against one another to win a pizza party for the homeroom that collects the most items! Last year SBA collected 5147 items for donation. Let's see if we can beat that total this year! Please drop off donations between October 18 - 29.
Most Needed Items:
Peanut butter

Canned chicken/tuna

Canned fruits and vegetables

Canned soups, stews, chili, and pasta

Beans (canned or dried)

Cereal (whole grain, low sugar)

Pasta

Rice

This weekly series features events shared on our social media channels in the past week. Click on each post to read more (and be sure to give us a follow to stay caught up on all things SBA)!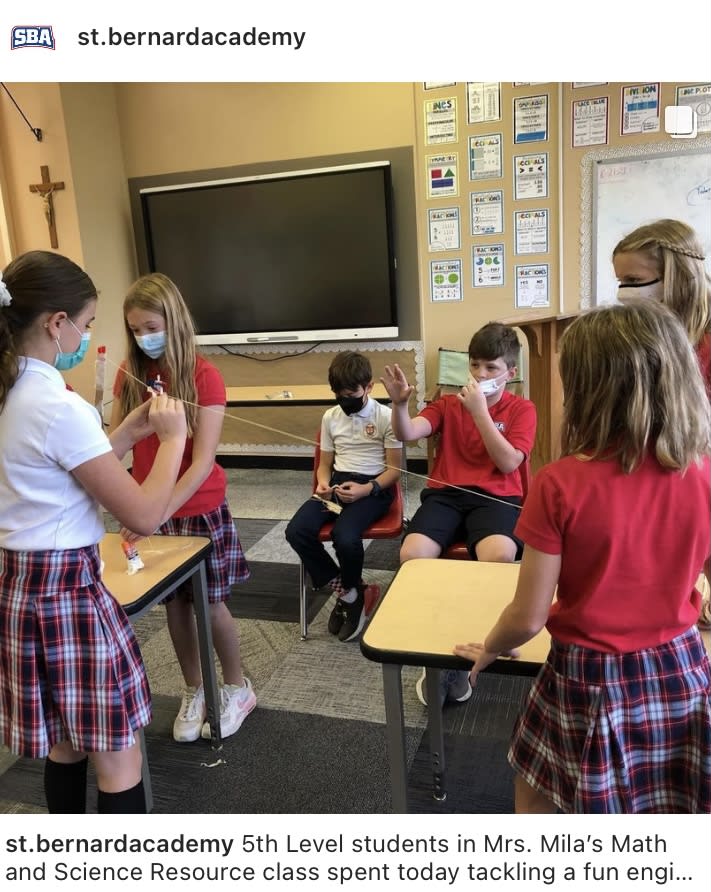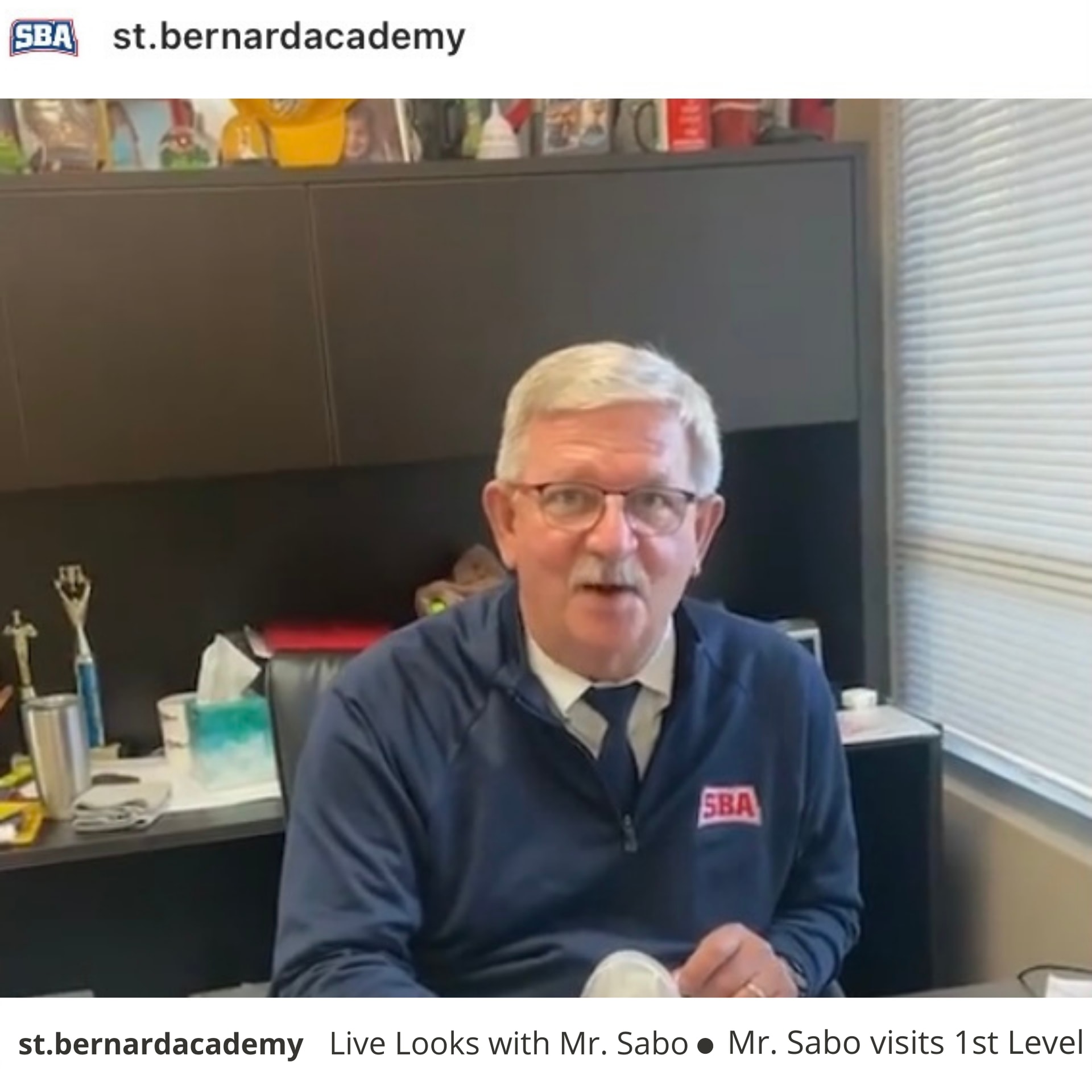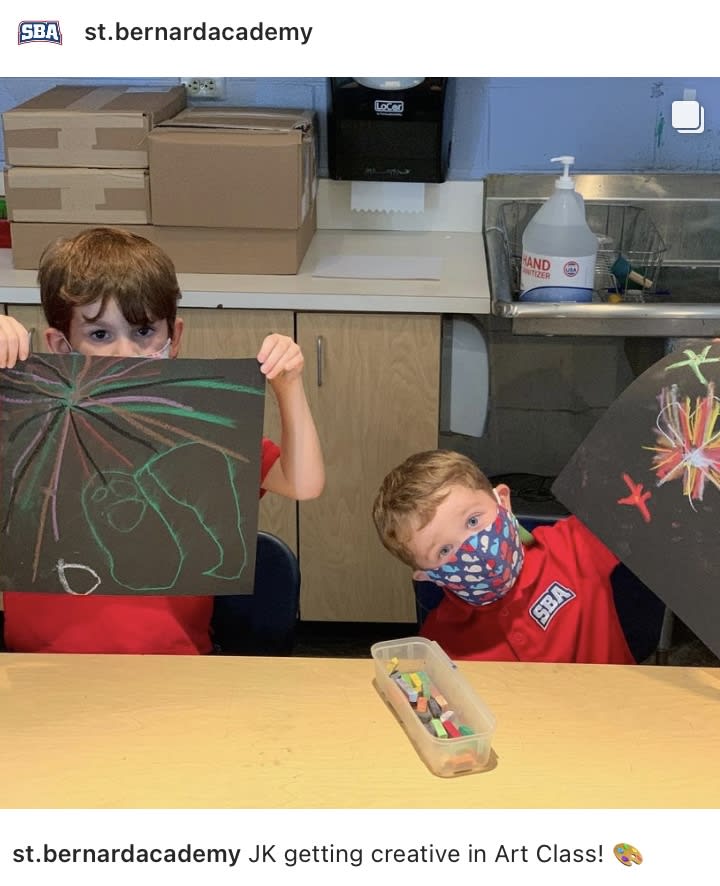 An Eggscellent Experiment
Students in Ms. Bernard's 7th Level science class investigate the importance of a cell membrane using eggs, reinforcing the idea of osmosis and diffusion and how essential it is to the cells of every living organism!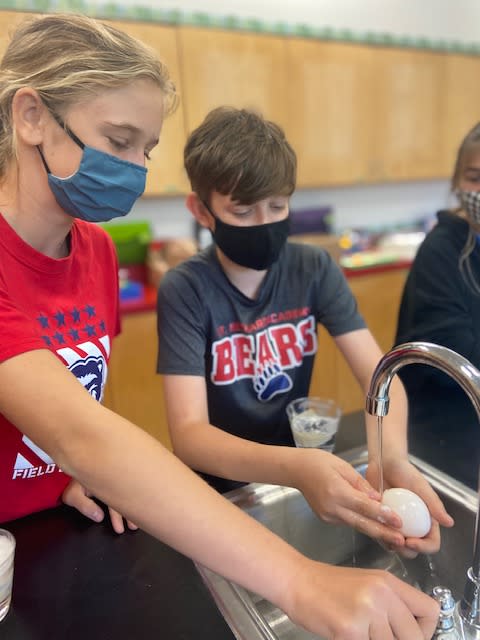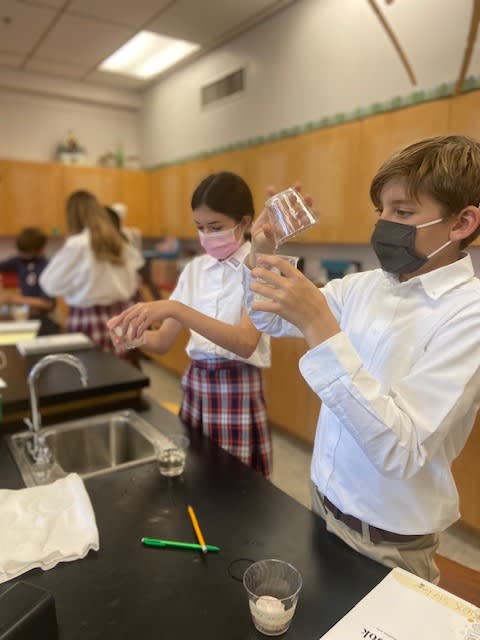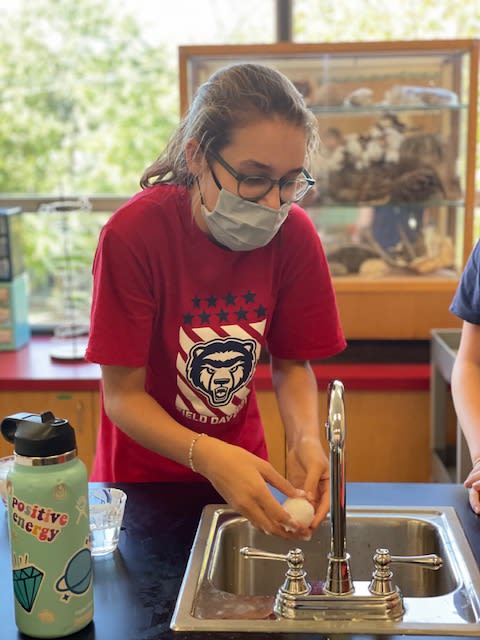 OCTOBER 22

Parent Social

OCTOBER 23

Fall Fair
OCTOBER 27

Eco-Bears Meeting
OCTOBER 29

1st Term Report Cards Available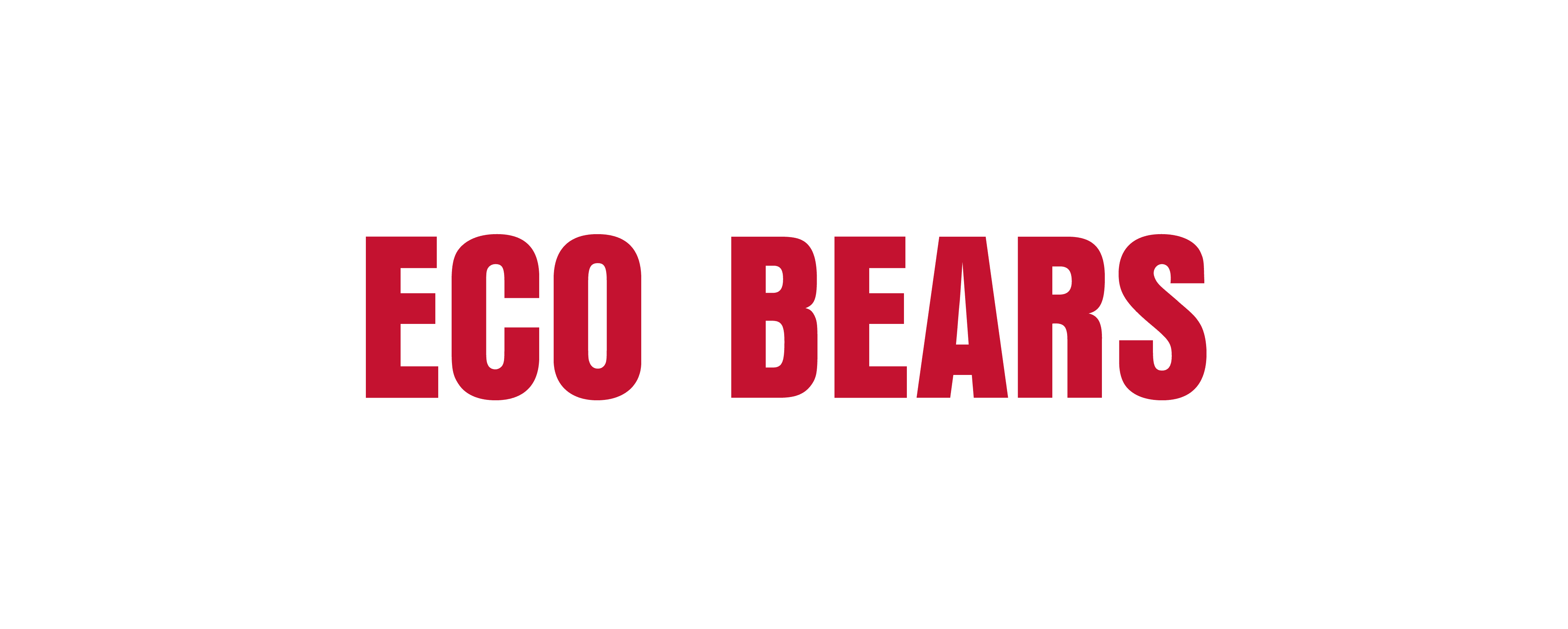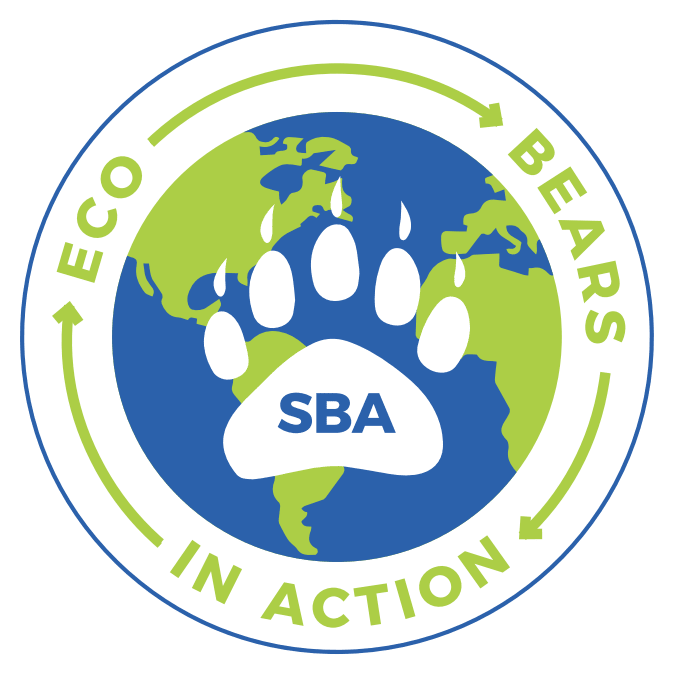 ECO-TIP OF THE WEEK!
Are you passionate about animal conservation?
Palm oil has been, and continues to be, a major driver of deforestation of some of the world's most bio diverse forests, destroying the habitat of already endangered species. This Halloween, choose candies that don't contain palm oil or are members of the Roundtable of Sustainable Palm Oil. Click here to see a handy guide for your Halloween shopping!
Have an idea for an Eco-Tip? We'd love to share it. Please email Trina Ewald.

It's time to kickoff this year's SBA Annual Fund, our school-wide, year-long fundraising campaign! Each Annual Fund donation flows directly into our operating budget to support the school's greatest needs. It is thanks, in part, to the Annual Fund that we are able to deliver a high-quality education at an affordable price to our families.
Each year we ask that every family at SBA makes a contribution the Annual Fund to help us reach our goals of 100% participation and $200,000 raised! You will soon be hearing from our Annual Fund Co-Chairs, Mark and Trina Ewald, as well as your class representatives, who will tell you all about why making a contribution to the Annual Fund is both meaningful and important. THANK YOU for considering this request!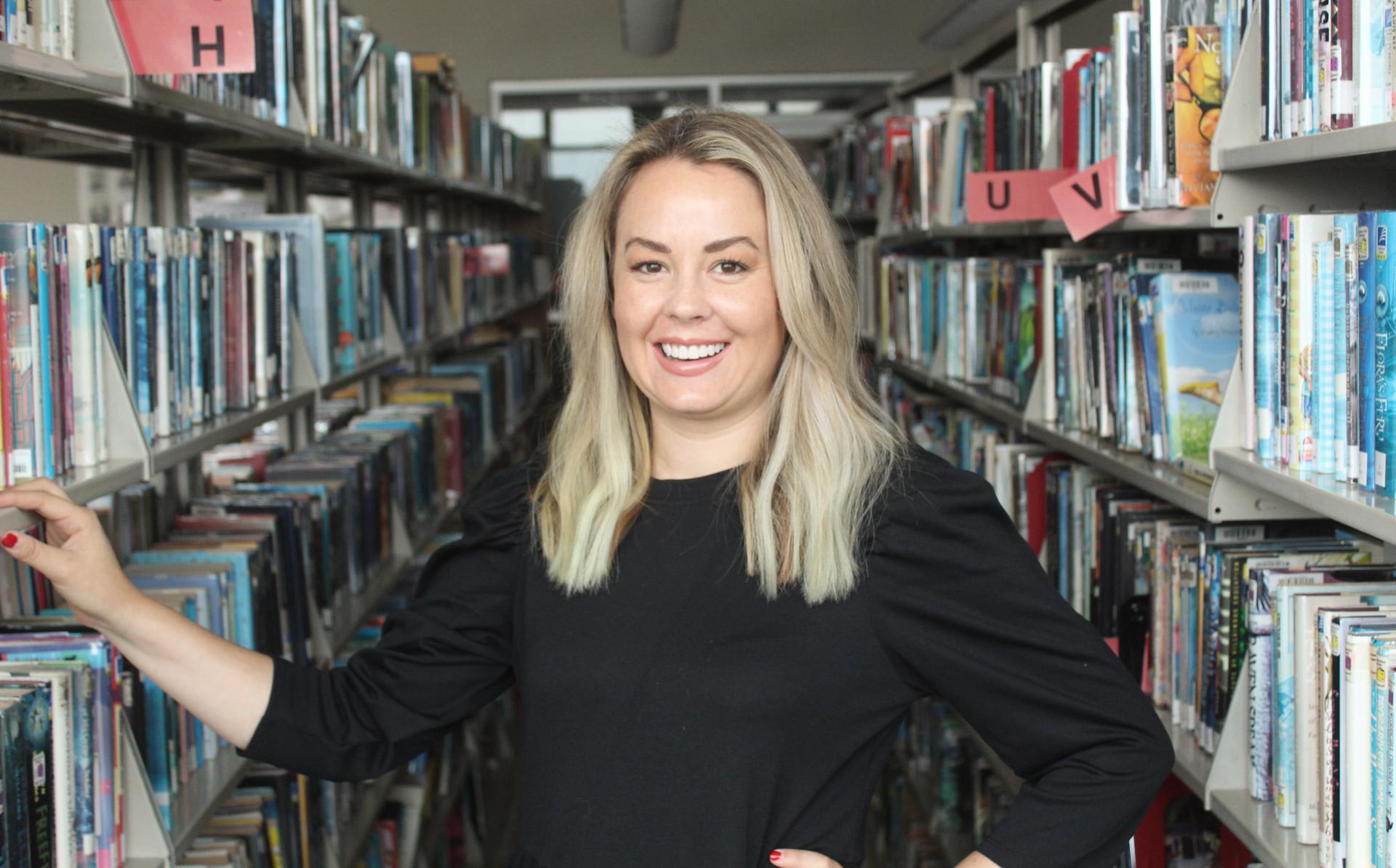 Dr. Murley was my favorite teacher. She was my professor at Western Kentucky University during the final year of my teacher prep program. She taught me the importance of dressing professionally (but with a side of style), doing quality work, and is one of the reasons I love education today. She brought a level of professionalism and grace to the field that I always admired. I couldn't help but think she was great—she even brought us cream cheese pinwheels to class! When I was a young college student my dream was to be Dr. Murley when I grew up!
-Margaret Richards, Lower School Head

PARENT-TEACHER CONFERENCES
Parent-teacher conferences are on November 11 and 12. More information to come next week regarding format (in-person or via Zoom) as well as the sign-up link.
AFTERCARE SIGN-UPS
Despite school being closed on Monday, November 8 for professional development, Aftercare is providing child care from 8:00 A.M. to 3:15 P.M. for those who need it. Due to staffing limitations, we can only accept up to 40 students on a "first come first serve" basis. Please rsvp with Jordan at jharkey@stbernard.org to reserve a spot for your child(ren).